Agriculture
Below is information intended for agricultural consumers. If you are a producer, please visit the Missouri Business Portal or the Department of Agriculture's website.
Local Foods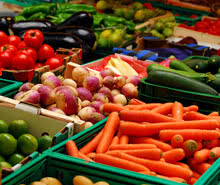 Are you looking to experience the best of direct-to-consumer agriculture in Missouri? From juicy, ripe cantaloupe and dazzling greenhouse perennials to tasty pastries and delightful scented candles to a home-grown cornucopia at the farmers' market and down-home hospitality of bed and breakfasts, AgriMissouri is your one-stop source for local foods all the excitement Missouri agriculture has to offer.
Agritourism
Seller Directories
Browse or search our seller directories to locate agricultural products for sale near you and beyond.