Environmental Conservation
Preserving Our Resources
The State of Missouri works with Missouri's citizens to protect our natural resources and ensure future generations can enjoy them.
Land and Water Care
The Missouri Department of Conservation offers conservation and habitat preservation resources and assistance for Missourians from all areas.
Resources by Topic
Soil and Water Conservation
The Department of Natural Resources' Soil and Water Conservation Program provides financial incentives to landowners to implement conservation practices that help prevent soil erosion and protect water resources. The program is dedicated to conserve the productivity of Missouri's working lands.
Protecting Our Natural Resources
The Missouri Department of Natural Resources provides a range of services to help Missouri citizens, communities and businesses protect and improve the air, land and water resources we all share.
Report an Environmental Concern
If you are involved in or witness an environmental emergency, please call the Missouri Department of Natural Resources at 573-634-2436 or submit a report online.
Invasive Species
Species that come from a distant region or another continent can become invasive. Please do what you can to control invasive species when you landscape, farm, hunt, fish, camp or explore nature. Invasive species and their seeds can travel on tires, clothes, in bait buckets and firewood.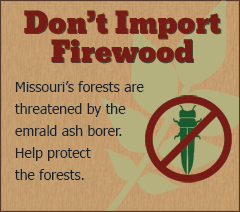 Endangered Species
All living things are part of a complex, delicately balanced network of ecosystems. Species are going extinct at an alarming rate worldwide, forever weakening the fabric of natural communities and ecosystems. These dramatic declines in species are due primarily to the intensive human use – and abuse – of their habitats.