Job Seekers
Find a Job in Missouri
Jobs.mo.gov is the premier source for all resources relating to employment in Missouri.
Search for job openings based upon your individual qualifications.
View electronic Job Orders and referral information for job openings whose qualifications you meet.
Search new Job Orders added daily.
Create an electronic Job Seeker Summary that is searchable by Missouri employers.
Get a Job with the State of Missouri
Visit our State Employment Resources page to begin your career with the State of Missouri. Here you will find: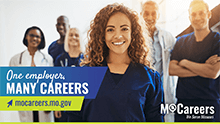 MO Careers

Browse State Employment Opportunities,
Learn How to Apply,
View State Benefits,
And more.

Additional State job resources and information
Individual Agency Job Listings
Career Resources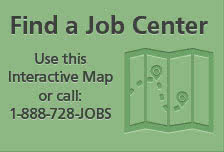 The National Career Readiness Certificate
The National Career Readiness Certificate (NCRC) increases Missouri's economic competitiveness by connecting Missouri businesses with skilled workers who demonstrate proficiency in basic workplace readiness.
The Missouri Career Guide
The Missouri Career Guide guide provides information and data to assist students in making informed career choices. It also helps job seekers of all ages to identify education and skills-development resources and to improve their job-hunting and interviewing skills.
Job Outlook and Career Grades
What are the hot jobs today and of the future? See what level of education will likely be needed for jobs having better than average outlook through the year 2018, plus how much the occupations typically pay in Missouri. Check the Job Outlook and Career Grades to answer these questions.
Professional Training
Training programs are available to help workers, unemployed workers and employers in further their skills and practice safe working practices. Find a training program.